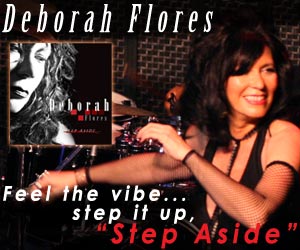 Step Aside Debuts at #40!!!

The debut CD for veteran songstress of the performing stage Deborah Flores, has arrived!

With a seamless flow of sounds from soulful R&B and contemporary jazz to neo-soul, this album has it all! Deborah's seasoned voice belts out effortlessly in the R&B songs "Movin On" and "Sneakin' Around". "Sneakin' Around", an original composition, with a funk filled playful vibe, "Dream on Dreamer" and "Ain't No Sunshine" (a Bill Withers classic) display the mellow silky flavor of smooth jazz with some unexpected yet warmly welcomed surprise turns along the way. Bassist, Marcus Miller takes it to another level in Deborah's rendition of, "Do I Do"

(By Stevie Wonder). There's even a touch of some soft rock found in the Lenny Kravitz classic, "I Belong to You". Adding a more mature vibe to the song list, Deborah sings in sultry elegance the jazz standard, "The Man I Love" featuring a stellar performance by Eric Marienthal on sax. Undoubtedly you will not be able to sit still during Deborah's original song, "Move Your Body", which evokes an urban funk sound that commands you to do just that!

Producer, Jeff McCullough, owner of Tree Hill Media, applies his creative soulful talent to every song. With over 20 years in the business, Jeff's expertise will keep you moving and grooving. Jeff's musical arrangements take the songs by storm! Each melody, each composition, takes you on another musical journey making this CD an experience of pure joy!

Deborah Flores, in her unique style and soulful vibe, provides something for everyone's musical pallet. Check it out today!
International Radio Success!!
"Step Aside" Debuted at #40 on National Smoothjazz Radio charts! It is being played internationally. This week the new CD is being featured on 14 national stations with "Sneakin' Around" as the Song of the week.